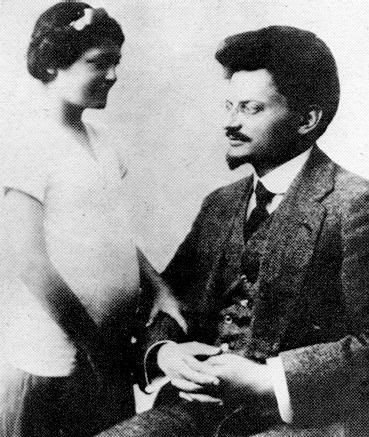 Nobody does "Stalinist behaviour" better than Trotskyists. Irony or hypocrisy? Whatever, the Left is a disgusting mess by any standards and deserves to be as ignored, irrelevant and ridiculed as it is. Unfortunately that means that while th
e Left plays its dirty, pathetic little games and its wannabe Chekists and make-pretend Central Committees get their jollies in their grubby little empires, those who deserve the best, deserve to be fought for and defended, deserve a voice, they get left abandoned and unrepresented.
From the WRP, through the SSP and the SWP, and a myriad of seedy little sects in between, the stories of power tripping little Napoleans and the women they abused run like an unbroken thread through the lineage of Trotskyism. Could almost make one wonder if the rumours about the Old Man himself were maybe not just (here is that word again) "Stalinist" propaganda, that maybe that icepick was a reminder that just because a naive young woman respects your ideas doesnt mean she consents to be a dirty old man's sex toy.
" ...instead of finding myself face to face with a political chief who was directing the struggle for the liberation of the working class, I found myself before a man who desired nothing more than to satisfy his needs and desires of vengeance and of hate and who did not utilize the workers' struggle for anything more than a means of hiding his own paltriness and despicable calculations". Ramon Mercader, Trotsky's assassin explaining his motives.


Really, just how many "leading" names on the Left could we put those words to?
So the real point of the Mercader quote is that, whilst it may or may not have been true of Trotsky himself (and there were indeed rumours about his behaviour at his Mexican compound towards some of the young women who came to work there), Ramon's words just fit so well when we look at the conduct of so many of our own Little Trotskys.

Of course it isnt just a problem within trotskyism, this mysogyny exists within all strands of the communist movement (as indeed the current wave of sex-scandals within the Chinese CP rather shamefully attest to). Indeed by all accounts Marx himself was no paragon of feminist virtue when it came to how he treated the women in his life. But my issue really is that when these cases do come up within the left on this island, as they invariably do, those on both sides tend to just put it down to that lazy all-weather swear word "Stalinism" and then pretty much leave it at that, as though this explains all. It certainly doesn't. The "crimes of Stalinism", of the "degenerated workers states" are all repeated on a micro-level within the micro-groups of trotskyism. And anarchism too for that matter. Abuse of power and organisational authoritarianism and conservatism, corruption and nepotism are all endemic within the Left, at all levels, and within all of its brands.


Now that is fine when it is just a few oddballs falling out over some doctrinaire squabble. No one else is listening and no one else cares. But this time, and yet again, this something serious, something that is not isolated and which is deeply damaging on every level.

There is something deeply flawed, rotten even, about how the Left conducts itself, and that is not about 'Stalinism' (a word that is used to cover so much that really it has no meaning other than as a political curse word), and indeed not even Leninism (although there is a strong argument that the democratic centralist model is too readily open to abuse).

If there is anywhere where women should feel safe, it should be within the Left. If there is any place where women should be able to work and organise without having to deal with harassment and lechery it should be the Left. But we all know that just isnt the case. And never has been. Racism, whilst it exists within the Left, is not openly tolerated and covered up for. But sexism, up to and including rape and sexual abuse, is.

People are what they are, complex, simple, confusing and predictable. And no more so than when it comes to sexuality and sexual behaviour. I don't think anyone thinks a new wave of leftist puritanism is an answer to these problems, but there are behaviours and attitudes that must be challenged. And the structures of organisation that protect those behaviours and stifle the challenges have to be addressed. There is institutionalised patriarchy within the left. But how that is addressed and resolved is going to take a much deeper level of analysis and self-reflection (organisational and personal) than just blaming "Stalinist practices" and men behaving badly.